ONE issues its 1st electronic bill of lading
Ocean Network Express (ONE), the world's sixth-largest container line by TEU capacity, has handled its first ever electronic Bill of Lading.
As part of the digitalization initiative, the liner teamed up with technology expert essDOCS specializing in the facilitation of paperless trade.
ONE went live using a CargoDocs electronic bill of lading for a shipment of containerized synthetic rubber from Russia to China.
The transaction involved SIBUR International GmbH as the shipper and SIBUR International Trading (Shanghai) as
the end receiver, with Novo Orient Agency acting as port of load agent in Russia, SIPG Logistics as SIBUR's agent at the discharge port in China and UNISCO as ONE's husbanding agent.
Moving forward, the company plans to enable its customers to use electronic bills of lading on a regional and subsequently global basis commencing in Q2 2020, as part of 'ONE eCommerce' initiatives.
"Accelerating ONE's digitization effort is the key to actively addressing our customers' pain points such as waiting times for Bill of Lading issuance," Richard Hiller, Global Head of Sales, Customer Service and Documentation for ONE, said.
"Our collaboration will enable ONE to provide our customers with improved levels of service through digitization."
World's largest containership to start sailing at the end of April
The delivery of 24,000 TEU containerships to South Korean shipping company HMM will not be delayed by the ongoing impact of the coronavirus pandemic on the shipbuilding industry.
The giant containerships, the largest ones in the world, were set to start their sequential delivery this month coinciding with the company's entry into a new containership alliance – THE Alliance.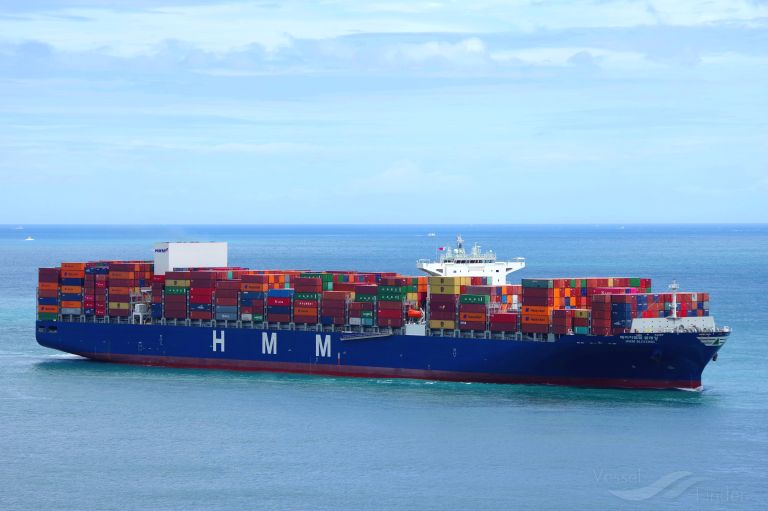 The ships are undergoing final touches at the Korean shipyards Samsung Heavy Industries and Daewoo Shipbuilding & Marine Engineering (DSME).
"The very first one will be deployed in the Asia-North Europe trade lane from the end of April, and then, the others are supposed to be sequentially delivered until September this year," a company spokesperson confirmed.
Commenting on the official start of the HMM's membership in the new alliance at this challenging time for the container shipping industry and yesterday's announcement about void sailings, HMM said the move was aligned with the unfavorable market situation.
"HMM strives to flexibly respond to the unfavorable market situation, particularly, sharp reduction in demand, caused by the COVID-19 pandemic which has remained widespread all over the globe," the company said.
"The contingency plan at THE Alliance level has been established and will be implemented accordingly."
"HMM is no exception to this plan. THE Alliance members will closely collaborate to cope with market fluctuation effectively."
The company recently announced that it was not using the name 'Hyundai Merchant Marine' as its official corporate name and brand, as of April 1, 2020, replacing it with HMM as its official name.

Maersk wraps up performance team acquisition
Danish shipping group A.P. Moller-Maersk has closed the acquisition of Performance Team, a US-based warehousing and distribution company, in an effort to further strengthen its capabilities as an integrated container logistics company.
The closing comes after the duo received relevant regulatory approvals for the deal.
The transaction, announced in February 2020, has been valued at USD 545 million including lease liabilities of around USD 225 million.
Craig Kaplan, CEO of Performance Team, remains CEO of the company after the transaction closed.
The addition of Performance Team's engineered solutions and distribution center capabilities to retail, wholesale and direct to consumer services will integrate with Maersk Warehousing & Distribution's regional network of more than 20 facilities in the United States and Canada offering logistics solutions, transload, consolidation, e-commerce fulfillment, inland drayage, facility management, yard management and value-added services.
"Our customers now have the opportunity to add Performance Team's omnichannel fulfillment services into their supply chain to create a hold and flow model customized to their specific needs," Narin Phol, Regional Managing Director of Maersk in North America, commented.
"This approach to marketplace fluctuations combined with the scope of our Maersk Warehousing & Distribution services creates added flexibility and winning choices for supply chain managers enabling them to better serve their customers in these challenging times."
As explained, Maersk is targeting the warehousing & distribution component to offer more supply chain options and flexibility to its ocean clients. The global size of the sector is estimated at more than USD 200 billion and for North America it is USD 50 billion.
According to Maersk, there is a significant growth opportunity for 3rd party warehousing & distribution players as only a small part of the sector in North America is currently outsourced and e-commerce is growing 12% annually. Increasingly, retail brands are looking to continue to expand e-commerce sales to reach new customers to complement their store sales.

The alliance reveals new batch of void sailing
Members of THE Alliance Hapag-Lloyd, HMM, Ocean Network Express, and Yang Ming have decided to void dozens of sailings in April amid anticipated sharp demand downturn caused by the coronavirus pandemic.
THE Alliance follows in the footsteps of 2M which withdrew the AE2/Swan and AE20/Dragon services on the Asia-Europe trade for the entire second quarter of 2020.
The capacity withdrawal equals a 21% capacity reduction in the trade.
The void sailings by THE Alliance cover Asia and North Europe route, Asia and the Mediterranean, Transpacific-West Coast as well as Transpacific-East Coast via Panama and Suez canals, as well as the Transatlantic routes.
"In addition to the voyages voided in April, THE Alliance members are currently preparing further, structural changes to our 2020 product and will make respective announcements in the upcoming week. The adjustments to our services are based on the requirements of the market in the current situation," the alliance members said in an advisory.
"Void sailing notices from carriers for April are coming in thick and fast and while rapidly decreasing fuel costs might tempt carriers to persist with this tactic as the primary defence for a little while longer, the need to preserve cash will soon force lines to suspend loops and park ships up," UK-based consultancy Drewry believes.
To mitigate the elevated risk of operating losses, lines should consider off-hiring chartered tonnage wherever possible and laying up owned units to preserve cash in the event of a prolonged demand downturn, Drewry adds.
"Cargo owners should expect significant service disruptions this year with more blank sailings and very probably a number of service suspensions. Shippers should consider adding a few "backup carriers" to their list of vendors if their primary service providers ration capacity or stop loops. Despite the unexpected reduction in fuel costs, shippers prioritising transit times need to watch out for slower service speeds as some carriers may be tempted to extend round voyages to absorb capacity."
The blanking of sailings is not a very glorious start for the South Korean shipping company HMM in the alliance.
The company traded its cooperation with 2M for full membership in THE Alliance, which marked its official start today.
HMM was described as a great fit for THE Alliance, as it was contributing a number of new and modern vessels, especially on the Far East-North Europe trade.
Specifically, twelve 24,000 TEU vessels were scheduled to start their delivery to HMM in April. Additionally, eight 15,000 TEU newbuildings also slated to join HMM's fleet in the second quarter of 2021.

THE alliance blanks 20 sailings as Covid-19 curbs demand
THE Alliance container shipping members have announced significant cuts of 20 sailings over the remainder of this week and the next four weeks in response to a forecasted sharp downturn in demand due to the coronavirus (COVID-19) pandemic.
THE Alliance members Hapag-Lloyd, Hyundai Merchant Marine (HMM), Ocean Network Express (ONE) and Yang Ming have decided to modify its April sailing schedules starting this week (week 14) to week 18 as follows:
Asia and North Europe
Week 15 – FE2 void
Week 16 – FE4 and FP2 EUR void
Week 17 – FE2 and FP2 EUR void
Week 18 – FE3 and FE4 void
Asia and the Mediterranean
Week 15 – MD1 void
Week 16 – MD2 and MD3 void
Week 17 – MD1 void
Week 18 – MD2 void
Transpacific – West Coast
Week 14 – PN4 void
Week 15 – PS5 and PN4 void
Week 16 – PS4 and PS5 void
Week 17 – PS3 (HMM does not participate), PS5, PN3 and PN4 void
Week 18 – PS4, PS5 void
Transpacific – East Coast (via Panama and Suez Canals)
Week 14 – EC3 void
Week 15 – EC3 void
Week 16 – EC3 void
Week 17 – EC3 void
Week 18 – EC3 void
Transatlantic (HMM does not participate)
Week 15 – AL2 and AL5 void
Week 17 – AL1 and AL4 void
In addition to the voyages voided in April, THE Alliance members said they are currently preparing further, structural changes to its 2020 product.
"The adjustments to our services are based on the requirements of the market in the current situation. Despite these changes, we continue to offer a reliable product for our respective customers during this challenging period and do our very best to maintain their supply chains and offering alternatives," THE Alliance stated.

MSC positions to meet demand from Asia once Covid-19 impact eases
Mediterranean Shipping Company (MSC) has unveiled a new flexible cargo service to meet an anticipated rise in demand for freight services from Asia once the impact of the coronavirus pandemic eases.
The new Suspension of Transit (SOT) container shipping programme includes container yard storage in six transhipment hubs across Asia, the Middle East, Europe and the Americas, ensuring that goods can be shipped close to their destinations as soon as possible and providing easier cargo flow for customers.
"The programme builds on MSC's ongoing efforts to ensure business continuity and the maintenance of vital container carriage services, such as the movement of food, fresh produce, medical equipment and other essential goods. The new SOT initiative is focused in particular on a resumption of demand of a wide variety of goods from Asia," MSC stated.
MSC noted that China has shown signs of recovery with factories restarting production, and the new SOT programme will help avoid high storage costs at ports of discharge.
"While positive signs of recovery have begun to emerge in Asia and factories have restarted production, major ports of destination may still not be ready to discharge containers," MSC said.
The new SOT programme aims to fulfil the resuming demand for raw materials and finished products from Asia by providing yard storage at major strategic points around the world: Bremerhaven in Germany, Busan in South Korea, King Abdullah Port in Saudi Arabia, Lome in Togo, Rodman PSA Panama International Terminal in Panama, and Tekirdag Asyaport in Turkey.
The programme is aimed at all shippers for containers from Asia and all types of cargo, except reefer, dangerous goods and project cargo.
MSC added that the programme can offer potential cost savings for customers faced with high warehousing storage costs at destination, demurrage, per-diem and other charges.
"The lead time will be reduced once operations resume at destination ports, and the programme will also add storage for beneficial cargo owners and non-vessel owning common carriers, who would otherwise reach their full capacity," MSC said.
Shipping, port and shiprepair to remain open as Singapore closes most workplaces
Singapore's shipyards and marine industries look set to suspend work for a month as the government closes all workplaces except those in essential services and key economic sectors to close in the fight against COVID-19.
Singapore Prime Minister Lee Hsien Loong announced significant tightening of measures, described as a "circuit breaker" to combat the COVID-19 pandemic in televised national address on Friday afternoon.
The PM announced that it would be closing most workplaces except for essential services and key economic sectors.
"Food establishments, markets and supermarkets, clinics, hospitals, utilities, transport and key banking services will remain open. They are essential services," he said.
"We also should not disrupt economic sectors that are strategic, or form part of a global supply chain."
According to the gobusinessCOVID government website essential services in transportation and storage include: "Shipping, shipping-related services, safety and navigation services, port and terminal operations, port marine services".
In the manufacturing and services sectors: "Marine & Offshore Engineering companies involved in ship/vessel repair, and maintenance and overhaul services; and their contractors."
Singapore is home to the world's largest container transhipment hub and is a major ship repair centre.
The Maritime & Port Authority of Singapore (MPA) said in a statement: "As maritime is a key economic sector and the Port of Singapore is critical in ensuring the flow of goods, it will remain open for cargo operations and will continue to provide essential marine services including bunkering, ship stores and ship supplies."
The statement said that maritime entities exempted from the suspension will receive a confirmation email from the MPA by 2200hrs on 3 April.
However, it would appear to other parts of the shipyard industry such as newbuilding construction. In his speech PM Lee said: "But most other work premises must close. If the person can work from home, he should do so. But others will not be able to, including foreign workers on construction sites and in shipyards."
The measures are to take effect from next Tuesday (7 April) and be in place for one month until 4 May.

China raw materials supply resumes, but Viet Nam's export markets close borders
HCM CITY – Raw material imports from China are no longer the concern for many Vietnamese industries, and it is now the frequent cancellation of orders by US and EU customers, according to the Ministry of Industry and Trade.
In the last couple of months many Vietnamese businesses lacked raw materials that used to come from China after that country closed down to combat the Covid-19 outbreak.
But now, according to the ministry, 72 per cent of China's small and medium-sized enterprises and all large ones have resumed normal operations.
As a result, the supply of imported raw materials and components for manufacturing industries in Việt Nam has mostly recovered.
In the textile and footwear industries, for instance, supply of raw materials is back to 60-80 per cent of normal.
However, when this problem began to be resolved by the end of March, Covid-19 broke out in the EU and the US, causing consumer demand for clothes and footwear to slump. The production capacity of these industries is far higher than domestic demand since they are mainly geared for exports, especially to these two markets.
Many Vietnamese garment and textile businesses have received notices from their US and EU buyers that they will stop taking delivery of goods for three weeks to a month.
According to Phạm Xuân Hồng, chairman of the HCM City Association of Garment Textile Embroidery and Knitting, customers said the suspension was due to tighter border control in those regions.
"They asked Vietnamese businesses to suspend deliveries, including of products already en route, until borders are reopened."
The US and EU are two major textile markets for Việt Nam. Half of all textile exports from a production hub like HCM City goes to the US, while the EU accounts for 15-18 per cent.
The ministry expects textile and footwear orders in April and May to fall by 70 per cent, and slow a recovery through 2020.
Switching to other markets such as India, South Korea and Japan cannot make up for the shortfall in exports to the US and Europe, and the two sectors are again set for competition from Chinese goods since the country's huge production capacity has basically been restored.
According to the ministry, the main priority now is to keep domestic industries operating despite the impact of the disease.
The textile industry is one of the biggest employers, and most of its workers are unable to switch to other jobs because of a lack of relevant skills.
If a business closes permanently, hundreds, even thousands, of people lose their jobs and create a negative spillover effect for other businesses along the supply chain.
The ministry plans to roll out credit, finance and tax policies to help businesses overcome the difficult period, continue production and look for domestic and foreign markets
Viet Nam's manufacturing drops to record low in March due to pandemic
HÀ NỘI The Vietnam Manufacturing Purchasing Managers' Index (PMI) fell sharply to 41.9 in March from 49.0 in February, a survey by IHS Markit and Nikkei released on Wednesday showed.
The COVID-19 pandemic had a negative impact on the Vietnamese manufacturing sector during March, according to the survey.
Business conditions deteriorated to the greatest extent since the survey began in March 2011 amid record falls in output, new orders and employment.
Firms also scaled back purchasing activity and inventory holdings, while severe disruption to supply chains was reported. Meanwhile, business confidence also hit a new low.
The latest PMI survey data signalled a steep decline in the health of the manufacturing sector, and one that was the most marked in more than nine years of data collection. The deterioration surpassed the previous record seen in July 2012.
"Unsurprisingly, the COVID-19 pandemic had a severe impact on the Vietnamese manufacturing sector in March, with PMI data signalling the worst decline in business conditions since the survey began just over nine years ago. Many of the survey's variables hit record lows and business confidence tumbled. The key now is how long it will take before the global community can bring the pandemic under control. Once this occurs, manufacturers predict a rebound in production," said Andrew Harker, Economics Director at IHS Markit.
The COVID-19 pandemic led to substantial declines in both new orders and production during March. Both fell at the sharpest rates in the survey's history, with total new business decreasing at a broadly similar pace to new export orders.
According to the survey, around 42 per cent of respondents saw manufacturing production fall at the end of the first quarter. Steep reductions were registered across each of the consumer, intermediate and investment goods sectors.
A severe drop in new orders as a result of COVID-19 led firms to lower their staffing levels. Employment fell markedly, and for the second month running. Despite job cuts, firms were still able to reduce their backlog of work given the extent of the decline in new business.
Manufacturers also looked to reduce their purchasing activity during March, with input buying down at a record pace. An unprecedented fall in stocks of purchases was signaled as a result.
(Source: VN Customs News, World Maritime News, American Shipper, Seatrade Maritime)