Container freight rates holding up as blank sailings hit 435
The container carriers have blanked a total of 435 sailings on various deep-sea trades, equaling a demand decline of 7 million TEU in 2020 caused by the COVID-19 pandemic's impact on global economies.
The figures were revealed by Danish consultancy Sea-Intelligence, which said the push has served as a strong underpinning for the freight rates though.
The blanking of sailings has already had a major effect on global ports, especially those on the U.S. West Coast. The drop in container volumes is estimated to have reached a 13 percent accumulated, further increasing from the gap greater by the China-Us trade war.
The consultancy said that over the past 6 weeks, the CCFI contract rate index was 11% higher than at the same period last year – despite the drop in both demand and oil prices. The decline in the overall index since Chinese New Year can be shown to be in line with normal seasonality.
The approach to the blank sailings differs between alliances. The pattern is that 2M and THE Alliance announce blank sailings ranging quite far into the future – typically to the end of Q2 – and then supplement these with a few additional blank sailings tactically as the situation evolves.
Ocean Alliance, on the other hand, announces blank sailings for a shorter period into the future and has not yet announced much for the later period in Q2.
As an example on the Transpacific, the three alliances have each blanked some 17-24% in weeks 15-21. However, for weeks 22-27 2M and THE Alliance have blanked 19-21% whereas Ocean Alliance at this point has blanked only 6%, data from the consultancy shows.
Given how the pandemic is impacting the economy, Sea Intelligence expects more blank sailings to emerge from Ocean Alliance in Q2.
The containment measures across the globe have had a colossal impact on the global economy and the International Monetary Fund (IMF) has sounded the recession alarm saying the Great Lockdown is likely to be worse than the Great Depression.
Some recovery is expected in 2021, however, the demand growth is likely to be modest.
VIETNAM: Volume of cargo in four months up despite COVID-19
The volume of cargo passing Vietnamese ports in the first four months of this year rose by four per cent to about 215.3 million tonnes despite the novel coronavirus (COVID-19) pandemic, reported the Viet Nam Maritime Administration.
Container cargo accounted for more than 6.78 million twenty foot equivalent units (TEUs), a year-on-year increase of 12 per cent.
However, the administration said in April, the volume of cargo passing the ports recorded a seven per cent decrease compared to the same period last year to 53.8 million tonnes. Of which, container cargo was estimated at nearly 1.7 million TEUs, up slightly by three per cent over the same period last year.
During the first four months, the administration said the provinces having the highest growth in volume of cargo passing ports included Quang Ngai, up by 61 per cent to 8.76 million tonnes and Quang Tri up by 46 per cent to about 373,000 tonnes compared to the same period last year. Many other provinces and cities also had high growth at 27-36 per cent in volume of cargo passing ports, such as nam Dinh, Can Tho and Da Nang.
Provinces and cities with strong reduction in volume of cargo passing ports included Quang Nam (down by 44 per cent) and Kien Giang (down by 36 per cent).
In the first four months, HCM City had the largest volume of cargo passing its ports nationwide but the volume dropped by 2.2 per cent year on year
Container shipping capacity down 9% in April, reveals eeSea data; global capacity for 2020 already cut by 7.5%
New analysis conducted by maritime intelligence company eeSea has revealed the extent of the impact of COVID-19 on global container shipping capacity.
According to the latest data – updated daily – a total of 302 of 2,693 sailings, or 11%, have been cancelled in May on all the main line trades.
In the first six months of 2020, a total of 1,675 sailings have been cancelled, or 11%; which comes out at 13% for 2M, 17% for Ocean Alliance and 17% for THE Alliance, while only 8% of non-alliance sailings have been cancelled.
However, the number of sailings alone only tells part of the story. Commenting on the numbers, Simon Sundboell, CEO and Founder of eeSea, said:
"Understandably, 'blank sailings' are the talk of the town among container shipping and supply chain professionals these days. But to truly understand the impact, you need to look beyond the daily trickle of carrier advisories and the number of cancelled sailings. Instead, you need to look at the reduction of container shipping capacity and the pattern that is forming for the weeks and months ahead."
Accounting for variations in vessel capacities between services, as well as taking into account entirely ceased services (beyond blanked voyages and temporarily suspended services), the resulting reductions in capacity offers a similar picture. However, the critical information is in the detail.
On, for example, the Far East – North America eastbound head haul (including Suez services), the actual deployed vs proforma capacity ratio, after blanks and suspensions, for May is 80% – almost as big a reduction as the February ratio of 71%. YoY (Year-on-Year), including discontinued services, the reduction in May is 21%.
eeSea produces these numbers globally, for all trades, services and carriers, down to a daily port departure level.
Says Simon Sundboell: "If I were a shipper in Asia or a buyer in Europe, this is the number that is critical to my business, including whether my shipments could be at risk; and how to plan contingencies."
The other benchmark head haul trade, Far East to Europe westbound, shows similar capacity reductions. Details are outlined in the appendix below; of note, however, is that in June Ocean Alliance will overtake 2M as the largest alliance on the trade lane for the first time since Oct 2019.
Carriers and ports are likewise offered these numbers for benchmarking purposes.
"A lot is happening these days, and it can be hard to keep a tab on it. This is why we at eeSea track it all in real-time. We map blanked – or 'void' – sailings, as well as discontinued and suspended services, as soon as the announcements are made. Sometimes announcements aren't made, so we also track the carriers' schedules frequently and discover unannounced blank sailings."
Per April 22, the status on the major trade routes is as follows:
FAR EAST – EUROPE HEAD HAUL (Med + Northern Europe)
• Far East to Europe westbound will see 14% of sailings, or 18 of 127 sailings, cancelled in April. This corresponds to a capacity reduction of 12%.
• This is down from 36% cancelled sailings in February, and 21% in March. Currently, 19% of sailings in May are already announced as cancelled, and 12% in June.
• THE Alliance has cancelled 22% of their April FEA-EUR sailings, and already cancelled a whopping 32% in May and 34% in June. 2M and Ocean Alliance are at respectively 12% and 10% in April, and 16% and 12% in May. However, it should be noted that Ocean Alliance cancelled 40% and 30% of FEA-EUR sailings in February and March.
• Over the six-month period from January to June, the alliances have cancelled 18% of FEA-EUR sailings, with Ocean Alliance at 17%, THE Alliance at 23% and 2M at 14%.
• With the currently announced capacity reductions, 2M will drop below Ocean Alliance in actual deployed capacity in June for the first time since Oct 2019.
• For the first half of 2020, the current announced reductions amount to a 17% YoY drop in deployed capacity, from 11.2m in 2019 H1 to 9.5m TEU in 2020 H1.
FAR EAST – NORTH AMERICA HEAD HAUL (East + West coasts, inc. Suez service)
• Transpacific eastbound will see 234 of 249 sailings, or 14%, cancelled in April. This corresponds to a reduction in capacity of 13%.
• This is still down from the 28% cancelled sailings in February. March saw 9% cancelled, and currently 20% of sailings in May are announced cancelled, and 15% in June.
• THE Alliance has cancelled 19% of sailings on Transpacific eastbound in April. 2M and Ocean Alliance are at 16% and 11%, respectively.
• However, over the six-month period from January to June, the 2M, Ocean and THE alliances have cancelled 18%, 12% and 19% of sailings respectively.
• For the first half of 2020, the current announced reductions amount to a 16.5% YoY drop in deployed capacity, from 12.4m in 2019 H1 to 10.7m TEU in 2020 H1.
HMM Names World's Largest Container Vessel, 'HMM Algeciras'
HMM held a naming ceremony for a 24,000 TEU-class containership 'HMM Algeciras',
the world's largest containership, at the DSME (Daewoo Shipbuilding & Marine Engineering)'s Okpo shipyard in Geoje, Korea. About 160 distinguished persons attended the ceremony, including Moon Jae-in (President of the Republic of Korea), Hong Nam-ki (Deputy Prime Minister and Minister of Economy and Finance), Moon Seong-hyeok (Minister of Oceans and Fisheries), Eun Sung-soo (Chairman of Financial Services Commission), Lee Dong Gull (Chairman and CEO of Korea Development Bank), Hwang Ho-seon (President of Korea Ocean Business Corporation) and Bae Jae Hoon (President and CEO of HMM). In particular, First Lady Kim Jung-sook served as godmother who cut the ropes to officially name the ship during the ceremony.
'HMM Algeciras' is the first of twelve 24,000 TEU-class vessels scheduled to be sequentially delivered until September 2020. In September 2018, HMM signed a formal contract for its twenty eco-friendly mega container vessels with three shipyards – DSME, HHI (Hyundai Heavy Industries) and SHI (Samsung Heavy Industries) in an effort to take proactive actions towards market change as well as form a sustainable profit-generating structure. DSME and SHI build seven and five 24,000 TEU-class containerships, respectively, which are expected for delivery until September, 2020. HHI constructs eight 16,000 TEU-class containerships to be delivered from the second quarter of 2021.
HMM plans to enhance its environmental capabilities by operating newly-launched twenty
containerships. The vessels are basically equipped with a scrubber system in preparation
for IMO 2020 environmental regulation. Optimised hull design and highly-efficient engine
are also expected to improve energy efficiency and reduce carbon emissions.
"For me, it is very meaningful that HMM takes delivery of the most technologically
advanced containership in this difficult time. I would like to celebrate it and hope
that HMM continues to secure a competitive advantage as a Korean national flagship
carrier.", says Moon Jae-in, President of the Republic of Korea.
"HMM will strive to expand its presence in the global shipping industry based on optimized fleet management and new cooperation with THE Alliance." adds Bae Jae Hoon, president & CEO of HMM. 'HMM Algeciras' will be deployed on Far East Europe 4 (FE4) service, one of the Asia-North Europe trade lanes of THE Alliance, with its port rotation starting at Qingdao, Busan, Ningbo, Shanghai, Yantian, Suez Canal, Rotterdam, Hamburg, Antwerp, London Gateway, then Singapore via Suez Canal.
Vessel Particulars of HMM Algeciras
LOA : approx. 399.9m
Beam : 61.0m
Depth : 33.2m
Capacity : 23,964 TEU
Flag : Panama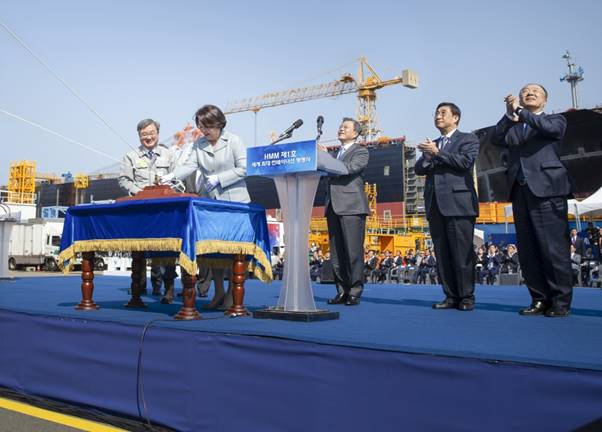 [Photo 1] First Lady Kim Jung-sook(In the middle) is cutting the ropes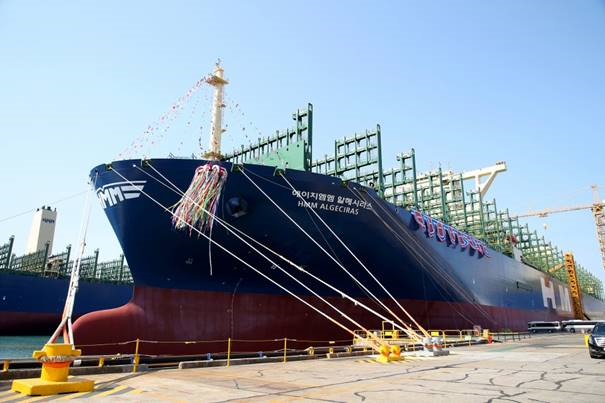 [Photo 2] 'HMM Algeciras', the world's largest container vessel
(Source: VNcustomsnews,Vietnamnews, American Shipper, Seatrade Maritime)