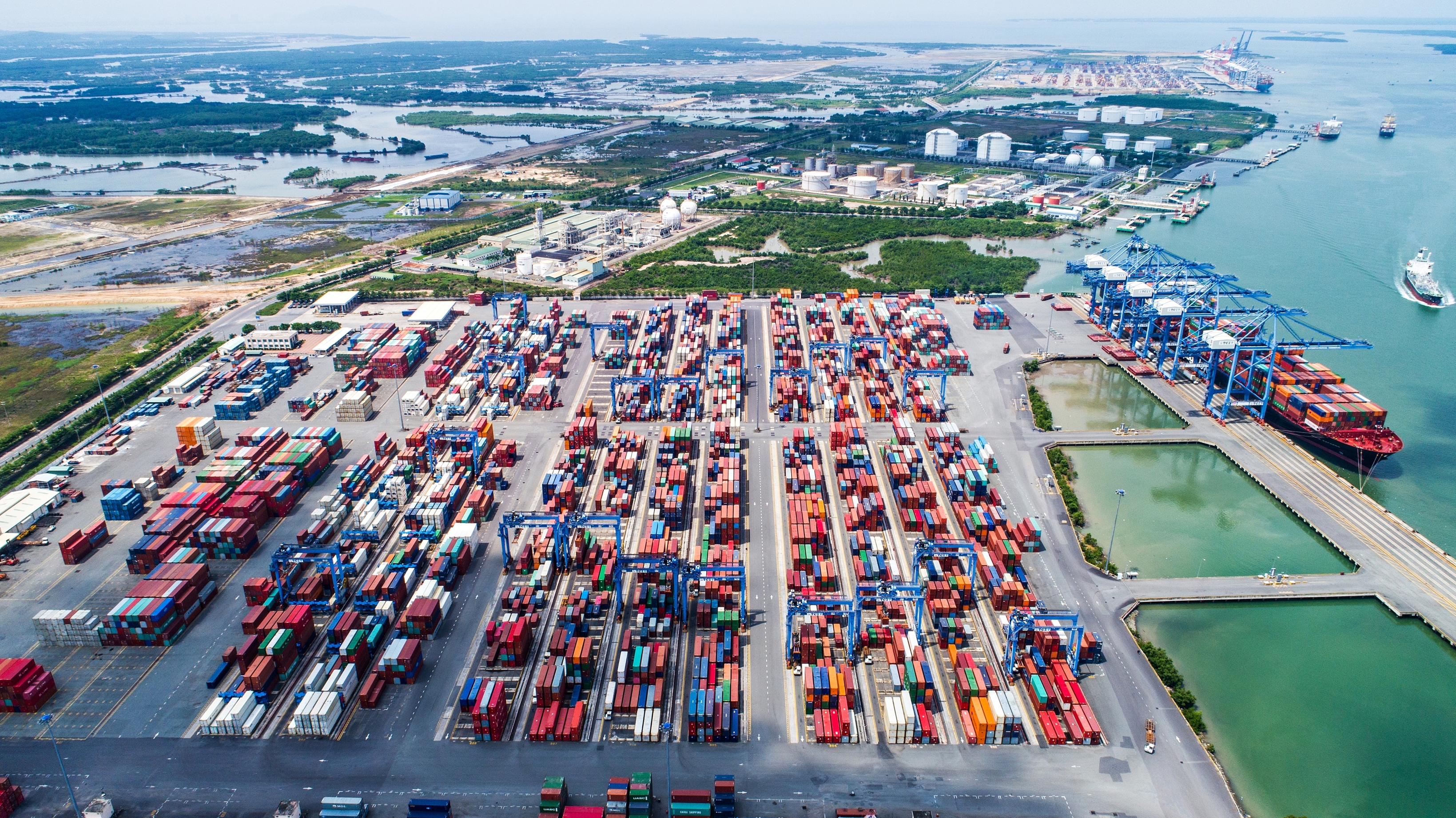 Evergreen Signs Up for Four 23,000 TEU Boxships in China
Taiwanese shipping major Evergreen has signed contracts with Jiangnan Shipyard and Hudong Zhonghua Shipbuilding for the construction of four 23,000 TEU containerships.
The contract signing coincided with the establishment of China Shipbuilding Corporation, "the world's largest shipbuilding group" which was formed through the merger of China State Shipbuilding Corporation (CSSC) and China Shipbuilding Industry Corp (CSIC).
Designed by Hudong-Zhonghua, the four boxship giants will incorporate environment friendly and energy saving solutions, it was said.
They are part of Evergreen's ten-unit fleet enhancement plan. The other six boxships will be built by South Korea's Samsung Heavy Industries. The value of the entire order stands between USD 1.4 billion and USD 1.6 billion.
The shipping company also has four 2,500 TEU feeders on order from Jiangnan Shipbuilding. Ordered in December 2018, the ships would cost between USD 31 million and USD 35 million each, with delivery scheduled to take place 24 months after the contract signing.
CMA CGM Raising USD 2 Bn through Sale of Vessels, Terminal Stakes
French shipping company CMA CGM has announced plans to sell vessels and stakes in port terminals with the aim of raising cash in support of its acquisition of Swiss logistics company CEVA Logistics.
The company said it intends to raise more than USD 2 billion in cash by mid-2020.
The plan includes USD 860 million from vessel sale and leaseback transactions, of which USD 650 million already completed during Q3 2019 and an additional USD 210 million scheduled to close over the coming weeks.
CMA CGM said proceeds would primarily be used to pay down the loan contracted to acquire CEVA Logistics, with the balance currently standing at USD 200 million.
A further USD 968 million would be raised from the sale of stakes held by CMA CGM in ten port terminals to Terminal Link, a joint venture set up in 2013 and owned 51% by CMA CGM and 49% by China Merchants Port that currently holds stakes in 13 port terminals.
Terminal Link will finance these acquisitions through a capital increase of USD 468 million subscribed by CMP and a loan by CMP that in 8 years will be converted into a capital increase subscribed by CMA CGM. The transaction, which is subject to antitrust and other regulatory approvals, is expected to close in spring 2020.
Also, USD 93 million (of which USD 85 million immediately and USD 8 million in a four-year earn‑out) would be generated from the sale of a 50% stake in a logistics hub in India, which will be completed in the first quarter of 2020.
Lastly, an additional USD 100 million from stepping up CEVA Logistics' receivables securitisation programme. The company has already locked in the renewal of its initial USD 450 million securitisation programme in Europe, the United States and Australia, which was scheduled to expire next spring.
CEVA Logistics integration proceeding according to plan.
The shipping major noted that a new Marseille-based operations center was enabling the group to generate revenue synergies with the signing of several new contracts.
However, CEVA Logistics' exposure to the automotive and technologies industries is continuing to dampen demand in both the freight and the contract logistics services segments. In addition, the significant investments made to transform CEVA Logistics are also weighing on margins in the short term.
The company unveiled the cash-raising plan in its financial report for the third quarter of 2019. CMA CGM saw revenues rise by 25.8% year on year to reach USD 7.6 billion, while volumes carried were up 5.1% compared to the third-quarter 2018. The group's profit in the third quarter represented USD 45.4 million.
NYK, Dualog to Develop Cyber Risk Management System for Ships
Japanese shipping company NYK and Norway-based maritime digital platform provider Dualog have signed a long-term industrial research and development project agreement that would receive support from the Norwegian government fund.
The agreement will see the development of digitized products and services across a testbed of 50 vessels with a view to eventually being rolled out across the NYK's fleet of 250 ships.
Innovation Norway, a governmental instrument for innovation and development of Norwegian enterprise and industry, will fund the project over the next two years.
Back in 2017, NYK and Dualog entered into a strategic partnership focused on pushing the boundaries for automation, the Internet of Things (IoT), and Big Data analysis. The partners have been developing data-sharing between ship and shore. In addition, they have launched a new Cepa Shield project that focuses on cybersecurity.
As explained, it will be possible to apply the cyber risk management system developed by the Cepa Shield project to all NYK-operated vessels, providing multiple layers of risk management.
When a cyber-attack comes from the outside, these features will help NYK to grasp from shore the condition of each vessel against the attack. NYK can then remain aware of any ships subject to a concentrated attack and in need of immediate protection.
The system will collect a variety of traffic information such as accessing servers from each application service. These will be merged into a monitoring system that will make it easy to determine what is going on and make it easier to take action if necessary.
"What we will be achieving is controlling communication at a new level, regarding protocols and security, but also in the way we will integrate different communications equipment onboard ship," Morten Lind-Olsen, CEO of Dualog, said.
"We will also look at the way we want to dynamically control the bandwidth so we can undertake traffic shaping between different services."
SM Line returns container service to Portland in wake of ILWU ruling
SM Line will restore weekly container service to Portland, Oregon, at the end of the year, announcing the move less than two weeks after a federal jury slammed the International Longshore and Warehouse Union (ILWU) with a crippling $93 million penalty for damages caused by work slowdown at the port. It will be the first liner activity at the port after a two-year absence caused by the labor disruptions.
The Port of Portland on Tuesday announced that South Korea-based SM Line is adding the port to its existing Asia-Pacific Northwest Service that includes calls in Vancouver, B.C., and Seattle. The first vessel will leave Ningbo, China, on Dec. 22 and is scheduled to arrive in Portland in January.
In a notice to customers, SM Lines announced the addition of Portland to its Pacific Northwest service known as PNS. The port rotation, with vessels of 4,300 to 4,500 TEU capacity, will be Yantian, Ningbo, and Shanghai, China; Pusan, South Korea; Vancouver, Seattle, and Portland, then back to Pusan, Kwangyang, Ningbo, and Yantian. SM Line, which picked up some of the trans-Pacific service that Hanjin operated before it declared bankruptcy in 2016, operates two weekly trans-Pacific services.
Oregon and the Port of Portland have been marketing the port's strategic location for exports as well as imports, with a delegation led by Gov. Kate Brown visiting with SM Line officials on a recent trade mission to South Korea.
"Oregon sent $1.7 billion in exports to South Korea last year," Brown said in a statement. "During our recent trade mission, we met with SM Line executives and made the case for continuing connections with our trading partners in Asia. I'm delighted they made the decision to come to Portland."
Work slowdowns chased away container lines
Portland has been without regular liner service since 2017 when Hanjin Shipping Co., Hapag-Lloyd, and Westwood Shipping ended their calls due to a dispute between the ILWU and International Container Services, Inc. (ICTSI), which operated Terminal 6. The container lines pulled out of Portland after five years of work slowdowns that slashed crane productivity from 30 moves per hour to close to 20.
On Nov. 8, after a two-week jury trial, the US District Court in Portland awarded ICTSI $93 million in damages from the lengthy dispute. The ILWU asked the judge to delay entry of the judgment while both parties file additional paperwork. Legal options being considered include a request for a reduced judgment, a filing for bankruptcy protection by the union, and assessing a levy of reportedly as much as $10,000 on each ILWU member coastwide to pay the settlement.
At its peak, Portland handled 339,571 TEU per year. It has handled 3,843 TEU so far in 2019, according to the Pacific Maritime Association.
JOC white paper: Shippers will feel effects of US-China trade war for years
"Trade wars are good, and easy to win." With those fateful words, uttered by President Donald Trump in March 2018, the United States government embarked on a prolonged conflict that will have lasting conse­quences not just for the economies of the US, but also for China and the global trading community.
Defying the expectations of many experienced observers, the US-China trade war has since expand­ed steadily in scope, at a pace that now threatens to undermine US and global economic growth at a time when the nearly decade-long global recovery already was beginning to lose steam.
When will the trade war end? What measurable outcomes or benchmarks will need to be met for the Trump administration to declare that increasingly painful and costly battles have all been worthwhile and that the US has somehow emerged as the winner? Is the Phase 1 agreement reached in October the opening to a long-term agreement, or another false start?
Over the course of two months this summer and fall, the JOC interviewed numerous industry stakeholders, economists, and other experts about the lasting impact the trade war has had on supply chains that, in some cases, were decades in the making. Whether an agreement is reached in the short term or not, manufacturing and transportation networks have changed in ways that will continue to play out for years.
Ocean Network Express Wins Lloyd's List "Excellence in Container Shipping" Asia Pacific Award
18 October 2019 – Singapore – Ocean Network Express (ONE) is pleased to announce that on 17 October 2019, ONE emerged as winner of the prestigious Lloyd's List "Excellence in Container Shipping" Asia Pacific award. A total of five major container shipping companies were shortlisted as finalists for the award.
"Only 18 months since our original "go-live" start-up, it is both humbling and an honor for ONE to be selected as the winner of the Lloyd's List "Excellence in Container Shipping" award for Asia-Pacific. As a new company we had our initial start-up challenges back in 2018, but with the great efforts of our staff, customers and business partners we quickly overcame these and stabilized our global operations. We have since moved on to restoring service delivery to the previous high quality and exacting standards of our 3J legacy companies and are now fully focused on moving ONE to the next level of operational excellence." said Jeremy Nixon, Chief Executive Officer, Ocean Network Express. "Thank you to all our staff and management for their great efforts, and we can all take great pride and encouragement from this prestigious award's recognition."
Lloyd's List Asia Pacific Awards*
This award recognizes the containership owner or operator that has best responded to the changing commercial and regulatory landscape through new ocean shipping configurations and port pairings, simplified booking and documentation processes, action to reduce ship pollution and other innovations that have made the supply chain more efficient. Entrants must demonstrate profitability, leadership and excellence in the sector and provide examples of exceptional performance in operational matters such as safety, reliability, efficiency and new business processes.
HMM wins Lloyd's List "Global Freight Award"
On 18 November 2019, HMM is pleased to announce that the company is honored as the winner of the 'Environmental Award' in the Global Freight Award 2019. The award ceremony was hosted at the Royal Lancaster Hotel in London on 14 November 2019. A total of six companies were shortlisted as a finalist in the environment category.
HMM's continued effort to reduce emissions played an important role in the prize. A panel of judges recognised the HMM for its long standing commitment to emission calculation and reduction with tangible results.
"On behalf of HMM, the prestigious environmental award is a great honor for our company", says Peter Livey, Managing Director UK of HMM. "Climate change is our collective challenge. For a zeroemission future, for which no carbon neutral fuels or technology currently exist, we more than ever need to strive to improve, innovate, and collaborate on minimizing the potentially severe problems climate change could bring for future generations", Peter Livey added.
"K" LINE, MOL, & NYK Share Data with ONE through the Common Data Platform "IoS-OP"
18 October 2019 – Singapore – Kawasaki Kisen Kaisha, Ltd. ("K" LINE), Mitsui O.S.K Lines, Ltd. (MOL), and Nippon Yusen Kabushiki Kaisha (NYK) have begun sharing of operational data acquired from the monitoring system installed in their container ships with their charter, Ocean Network Express Pte. Ltd. (ONE), through the IoS-Open Platform (IoS-OP) promoted by Ship Data Center Ltd. (ShipDC). As "K" LINE, MOL, and NYK have managed the data by different frameworks, ONE needed to carry out data conversion. With the IoS-OP's automatic conversion function to the standard names in line with ISO19848, which is provided by ShipDC, data conversion burden is mitigated resulting in simplifying analysis and management of integrated operational data of ONE's fleet. ONE aims to use this data to improve the accuracy of performance evaluations of individual vessel and machinery, and to achieve safer and more efficient vessel operations. This data sharing will significantly increase the volume of ship operational data distributed through IoS-OP, and further contribute to acceleration of data collection, distribution, and utilization through IoS-OP within the maritime industry.
MSC Named Shipping Line Of The Year 2019
MSC is delighted to receive the 'Shipping Line of the year 2019' award at the Transport & Logistics Middle East (TLME) Excellence Awards, held mid-November in Dubai, UAE.
On that night, 36 companies were rewarded divided in 4 areas:
· Special Recognition Awards
· Technology Awards
· Air & Shipping Awards
· Logistics Awards
Taking place for the second time, the Transport & Logistics Middle East (TLME) Excellence Awards is the occasion to bring together the regional and global key players within the supply chain, from the transport technologies, maritime, air, and logistics sectors.
On behalf of everyone at MSC, we would like to thank clients and partners, who took the time to vote for MSC as their 'Shipping Line of the year2019 – we look forward to further serving your shipping needs throughout 2020
Maersk wins Customer Service Award, 2 years in a row
Maersk won the prestigious Customer Service Award at the 2019 Global Freight Awards.
The Customer Care Award recognises real examples of industry-leading customer care strategies. The award ceremony took place on November 14th, at the Royal Lancaster Hotel in London, England. Brian Godsafe, the Area Managing Director for the United Kingdom and Ireland, received the award on behalf of Maersk.
"This award represents the efforts we put every day on improving and simplifying our customer's supply chain. We are very proud to have received this award especially after the transformation we have been through. I'm looking forward to continue serving our customer with the best experience and care."
- Brian Godsafe, the Area Managing Director for the United Kingdom and Ireland.
This year's participants were:
o DP World Yarımca
o Maersk
o MSC Mediterranean Shipping Company
o Whale Logistics Australia
Maersk has been enhancing its product portfolio and service offerings to improve the experience of its customers. With the integration of ocean shipping and logistics services under one umbrella, Maersk's end-to-end solutions have been customised to suit the customers' supply chains.
Enabled by digitisation and technology, Maersk is implementing solutions addressing specific customer pain points or expectations voiced in their feedback.
Some of the solutions in 2019 that led to the prestigious award are: instant cargo visibility, simplified freight invoices, optimised network routes, and digitised ocean customs clearance. Each of these features has cut down the time a customer spends on these services and increased the customer's ease in their day-to-day operations.
However, the most unique effort is the introduction of Maersk Spot. Maersk Spot was launched in mid-2019 to offer confirmed bookings and loading guarantee to the customers. This is especially notable because overbookings are rampant in the shipping industry, and Maersk Spot is expected to act as a trailblazer that will end the vicious practice.
The Global Freight Awards are the industry's flagship awards program that recognizes and rewards excellence across all sectors of freight.
HMM joins "Getting to Zero Coalition"
On 18 November 2019, HMM announced its participation in "Getting to Zero Coalition," a powerful alliance of nearly 100 organizations within various industrial sectors to achieve significant reduction of greenhouse gas (GHG) emission in the maritime industry.
"Climate change is a defining issue of our time and the scale of the environmental regulation we are facing is unprecedented. In order to ensure sustainable growth on the pathway to decarbonization, all players need substantive reaction to the technological solution of ZEV (Zero Emission Vessel) as well as the development of carbon neutral fuels. HMM is well prepared to cooperate with relevant authorities and institutions within the Coalition," says Jae-Hoon Bae, President & CEO of HMM.
HMM is committed to reducing carbon emission by 70% by the year 2030 compared to 2008 levels and thereby reach carbon neutrality by 2050 for its entire container fleets. HMM already reorganized R&D team to accelerate a range of research studies including the exploration of the commercial viability of hydrogen-powered system and collaboration with DSME for smart ship development.
HMM official said, "HMM's carbon emission target is ambitious, but achievable. Along with "Getting to Zero Coalition", HMM expects to make a better contribution to overall industry in moving towards carbon neutrality," and added "HMM's achievement and progress in line with its environmental roadmap can be found in the corporate sustainability report scheduled to be published next month."
Exports in the first half of November: Suffering trade deficit by $26 billion
VCN - The latest preliminary statistics of the General Department of Vietnam Customs showed the total export and import value of Vietnamese goods from November 1 to November 15 reached US$22.09 billion, decreasing by 10.7 percent (equivalent to a decrease of $2.65 billion) compared to the second half of October 2019.
The development of turnover of the 10 largest export commodity groups between 2018 and 2019, calculation unit is "billion USD". Sketched by: T. Bình
From the beginning of the year to the end of November 15, total import-export value of the whole country reached $450.46 billion, up by 7.6 percent (equivalent to an increase of $31.83 billion) over the same period in 2018.
Notably, in the first half of November, the country suffered a trade deficit of $26 million. However, accumulated from the beginning of the year to November 15, Vietnam had a trade surplus of $9.18 billion.
Regarding exports, the total value of exported goods in the first period reached $11.03 billion, decreasing by 16 percent (equivalent to $2.1 billion) compared to the last 15 days of October.
From the beginning of the year to the end of November 15, total export value of the country reached $229.82 billion, increasing by 8 percent (equivalent to an increase of $17.07 billion) compared to the same period in 2018.
Compared to the second half of October 2019, exports in the first half of November decreased in some items: Telephones and accessories decreased by $ 539 million; electronic computers and components decreased by $351 million; textiles and garments decreased by $135 million; machinery, equipment, tools and other spare parts reduced by $134 million; timber and wooden products decreased by $127 million.
Regarding imports, the value in the first half of November reached $11.06 billion, decreasing by 4.7 percent (equivalent to $549 million) compared to the last 15 days of October 2019. By the end of November 15, total import value of the country reached $220.64 billion, increasing by 7.2 percent (equivalent to an increase of $14.76 billion) over the same period in 2018.
Compared to the second half of October 2019, imports in the first half of November decreased in some key commodities such as: petrol and oil of all kinds decreased by $180 million; telephones of all kinds and components decreased by $129 million; coal of all kinds decreased by $124 million; machinery, equipment, tools and spare parts decreased by $106 million.
Regarding foreign direct investment (FDI) enterprises, in the first 15 days of November, they achieved import and export value of $13.51 billion, a decrease of 11.2 percent, respectively $1.71 billion compared to the second half of October 2019.
From the beginning of the year to the end of November 15, FDI enterprises achieved import and export value of $284.48 billion, increasing by 3.7 percent. The trade balance of goods of FDI enterprises reached a surplus of $1.22 billion in the first half of November, and $29.87 billion if accumulated from the beginning of the year.
The export value of FDI enterprises in this first half reached $7.37 billion, down by 17.2 percent (equivalent to $1.53 billion) compared to the last 15 days of October 2019.
By the end of November 15, the total export value of FDI enterprises hit $157.18 billion, increasing by 4.4 percent, equivalent to an increase of $6.57 billion over the same period in 2018 and accounting for 68.4 percent of the total export value of Vietnam's merchandise.
The import value of FDI enterprises in the first half of November reached $6.15 billion, decreasing by 2.8 percent (equivalent to $177 million) compared to the last 15 days of October 2019.
By the end of November 15, this sector achieved $127.31 billion, increasing by 2.8 percent, equivalent to an increase of $3.52 billion, accounting for 57.7 percent of the total import value of the country.

Source: World maritime news; Seatrade maritime; VN Customs news; American Shipper., Shipping Lines' websites