In the context of the pandemic COVID-19 is having a serious impact on global economic growth, Tan Cang - Cai Mep International Terminal Co., Ltd. (TCIT) always maintains terminal operation activities in parallel with applying early preventative measures in controlling the spread of Covid-19. Meanwhile, the availability of modern equipment for the smooth accommodation of ultra large container vessels has been ensured and TCIT continuously enhances the handling productivity as well as provides professional and high-quality service to serve customers during this unprecedented time. That continuous improvement in handling productivity has helped shipping lines to either minimize the berthing time or reduce cost. Remarkably, on May 19th, TCIT has achieved a very high net productivity of 206.19 containers / hour when handling the NYK WREN vessel deployed on THE Alliance's FP2W service connecting Asia and Europe. The loading and unloading of 5,518 boxes / 8,709 twenty-foot equivalent units (TEUs) have been completed after about 30 hours berthing at TCIT, the NYK WREN vessel has departed to Singapore and continued her journey to Europe via the Suez Canal then.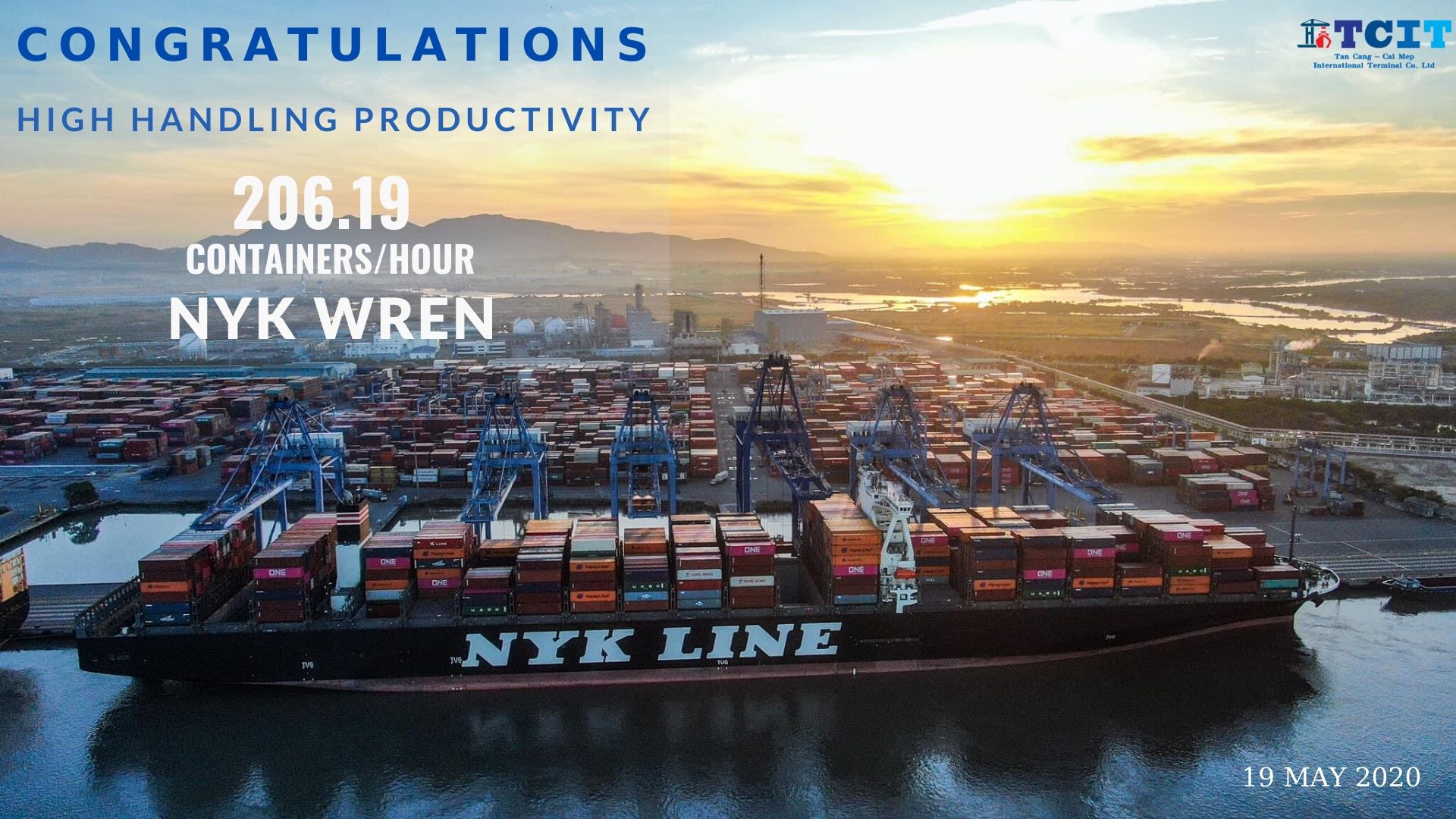 In addition, with the advantage of 890 meters main berth and 270 meters barge berth in length, as well as of modern and eco-friendly equipment including 10 STS cranes, 22 e-RTG cranes, 07 reach stackers and empty container handlers, 71 internal trucks, etc. TCIT thereby is a unique deep-water terminal in Vietnam that could serve two box ships of above 10,000 TEUs capacity simultaneously while the high handling productivity have been recorded.
These achievements have been made by great efforts of the whole TCIT team to ensure the continuity of global trade flow in this tough situation. As the No.1 deep-water terminal in Vietnam, TCIT always strives to become the customer's first choice for container transshipment and soon to be the international transit hub in Southeast Asia.
For more details about TCIT's services, please follow us via fanpage https://www.facebook.com/tcit.snp.caimep OR contact us at pr@tcit.com.vn.